About Us

We live out in the country amidst the beautiful forest of Michigan's Upper Peninsula. There are large fenced yards for the dogs to play, and acres of woods for us to roam and explore. When not outside playing, the dogs live in the house and lounge around the living room. They are not kennel dogs, they are family.

I have my sister Mary to thank for getting me interested in miniature dachshunds. She wanted me to create and maintain a website for her and she gave me a puppy in return for my work. Our lives have revolved around the doxies ever since. Mary has an extensive background in animal husbandry and her knowlege and expertise are very valuable resources for me to call upon any time of the day or night (and I often do).

We have formed a group of dedicated dog enthusiasts that share a common passion. My sister and I and several of our relatives and friends love to get together and share our experiences, challenges and interesting stories, as well as our dogs. This connection that we have has made it possible for us to produce really fabulous dachshunds.

Our dogs come from some very prestigious lines including Heidox, Cedarhurst, Devoncream, Rose Farms, Maundowne, Kizzhar Kavalcade, Guys, Grans, Brandachs, Pattihund and many other esteemed kennels. Our goal is to produce dachshunds with excellent conformation and great temperaments. We have carefully chosen our breeding couples based on their health, personality, physical structure and genetics. We strive to create dachshunds that are perfect in every way.

Our number one priority is to provide our dogs the highest possible quality of life we can provide. We feed them top grade foods, deworm them regularly and keep them up to date on vaccinations. They enjoy running through the woods, napping in the afternoon sun, wrestling on the living room floor, digging, playing, barking, hunting and sitting on laps. We love every aspect of taking care of our little buddies including training, grooming, feeding, photographing, playing with them, and yes, even cleaning up after them (it's a "Mom" thing). They fill our lives, our hearts and our living rooms.

It is with great pride and pleasure that our puppies go to wonderful pet homes. We only let them go where we know they will be loved as an important, cherished member of a family. We love getting photos and emails of them enjoying their lives. Check them out on our Great Pictures page. We do not ever sell to anyone that we do not think is going to absolutely love and adore their new family member. We believe the world could be a better place if there were a dachshund in every living room and maybe a few more underfoot.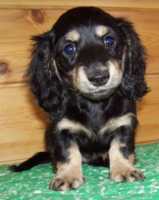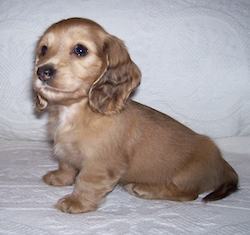 Contact Us:
Phone: 906-297-DOXI(3694)
email: pat@northedendachshunds.com